TIMBERLINE'S MT. HOOD RESTAURANTS
DINING
Restaurants and bars are currently limited to takeout. During this time, Timberline is offering access to the lodge to hotel guests only. Restaurant takeout meals are available for hotel guests to enjoy in their rooms since we are unable to allow food and beverage consumption in the common areas.

Takeout dining for all guests is available from the Wy'East Cafe, Phlox Point Cabin, and both Mt. Hood Brewing Co. locations.

Timberline prides itself on offering exciting, fresh cuisine made with locally-sourced ingredients. From our seasonal menus to our award-winning wine program and glacier-fed microbrewery, we put exceptional care and effort into every aspect of our guests' dining experience. Come taste everything that Timberline and the state of Oregon have to offer.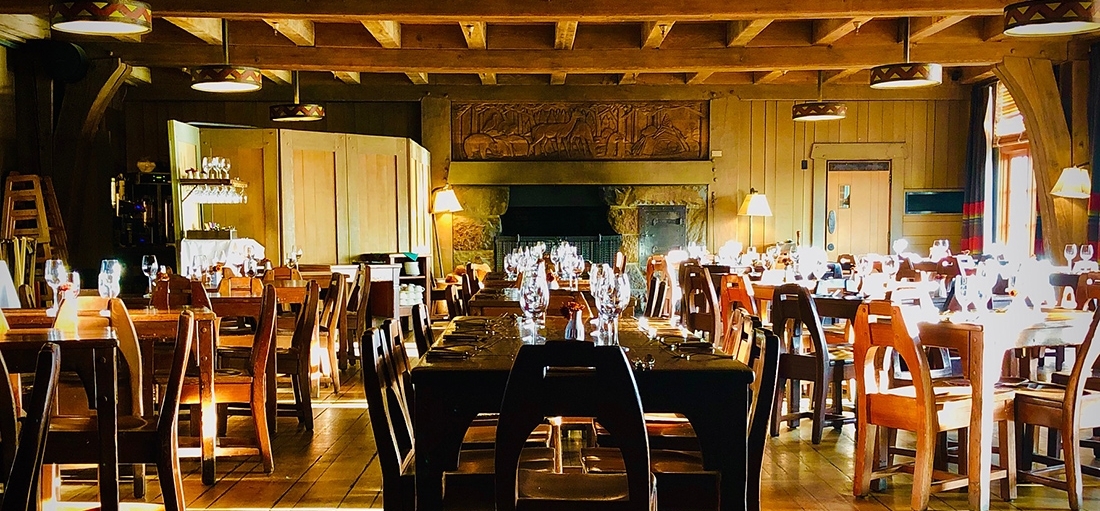 A pioneering spirit of craftsmanship paired with a deep-rooted connection to the region inspires our culinary program, which is showcased fully in our Cascade Dining Room. From cold mountain streams and deep Pacific waters teeming with fish to rolling fields of fresh organic produce, Timberline Lodge is at the center of the various bounties we enjoy in the state of Oregon. Led by celebrated Chef Jason Stoller Smith, all of our dining programs strive to create a sustainable farm-to-table relationship with the land around Mt. Hood. Our award-winning wine program is renowned for curating the finest wines in the Pacific Northwest.
OPEN DAILY for hotel guests only
At this time, we are offering access to the lodge to hotel guests only. Restaurant takeout meals are available for hotel guests to enjoy in their rooms since we are unable to allow food and beverage consumption in the common areas.

Coffee starting at 7:00am
Breakfast 8:00am - 12:00pm
Lunch 12:00pm - 5:30pm
Dinner 5:30pm - 9:00pm
Hotel Guests - Enjoy dinner room service from the historic Cascade Dining Room (CDR). Reservations are required for dinner room service and may be made upon check-in, by clicking the link below, or by calling the CDR at ext. 3104. The reservation time is the time at which the guest will place their order in-person at the CDR. Beverages may be picked up immediately. Food orders will be delivered to the guest's hotel room within 30-60 minutes. Payment will be completed as a room charge with a 19.5% service charge.
Breakfast and lunch takeout orders may be placed during regular hours by calling ext. 3104.
Make Reservations for Takeout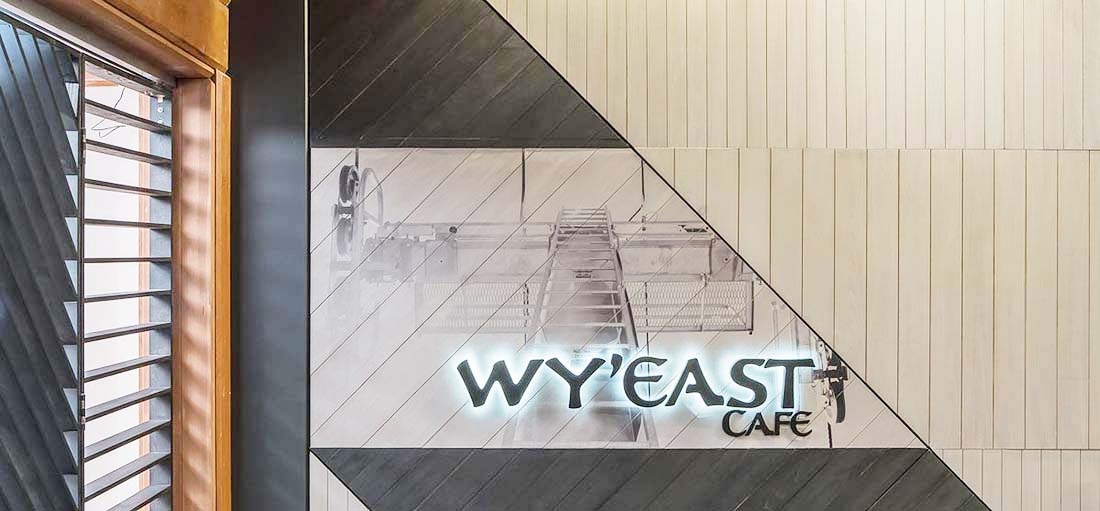 Located in the Wy'East Day Lodge, the Wy'East Café offers delicious, convenient meals in a modern setting for those enjoying their day on the slopes or bike trails at Timberline. Currently serving grab and go lunch items, bottled beverages and packaged snacks.
OPEN DAILY for takeout only
Breakfast 8:00am - 10:30am
Lunch 10:30am - 4:00pm
Open until 9:00pm for night skiing Fridays - Sundays
Grab & go items are also available by Smokey the Bear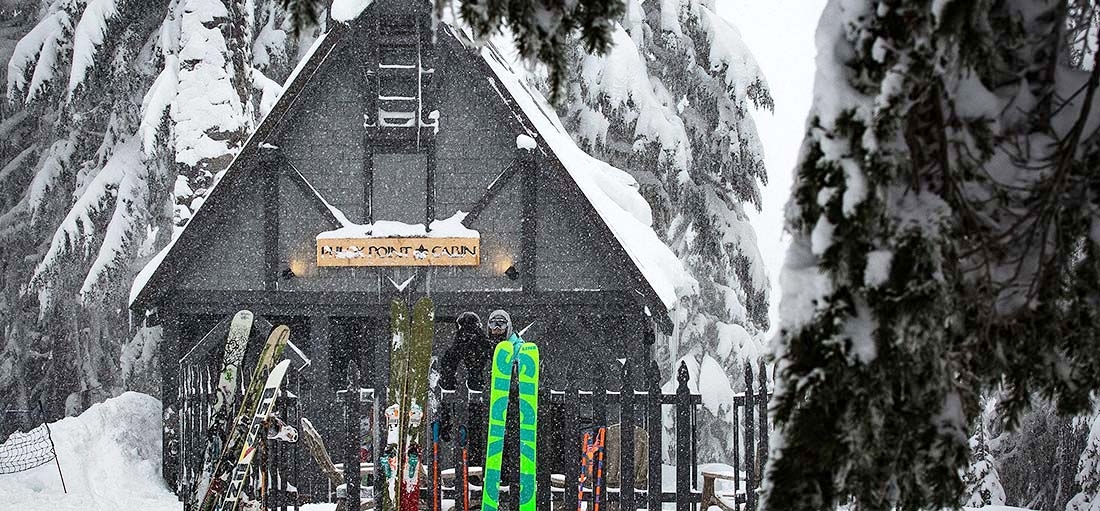 Remodeled in 2016, the Phlox Point Cabin was built in 1930 and has served as a warming hut for the Timberline Ski Club, a USFS summer guard station, and for more than 60 years it was an overnight shelter for Boy Scouts enjoying skiing and other winter activities. These days it is our mid-mountain ski-in-ski-out lunch spot. The cabin is located to left, trailside on "Walt's Baby", which is between the Pucci and Jeff Flood/Still Creek lifts and can be accessed by skiing down "West Leg Road" (then left on "Walt's Baby") from the Wy'East Day Lodge.
OPEN DAILY for takeout only
10:00pm - 3:00pm
Introducing the Timber Truck for the 2020/2021 winter season! Located in front of the day lodge, Timberline's new food truck features a burgers, dogs, and chili for a quick lunch.
OPEN DAILY for takeout
Mondays - Thursdays 10:30am - 4:00pm
Fridays - Sundays 10:30am - 9:00pm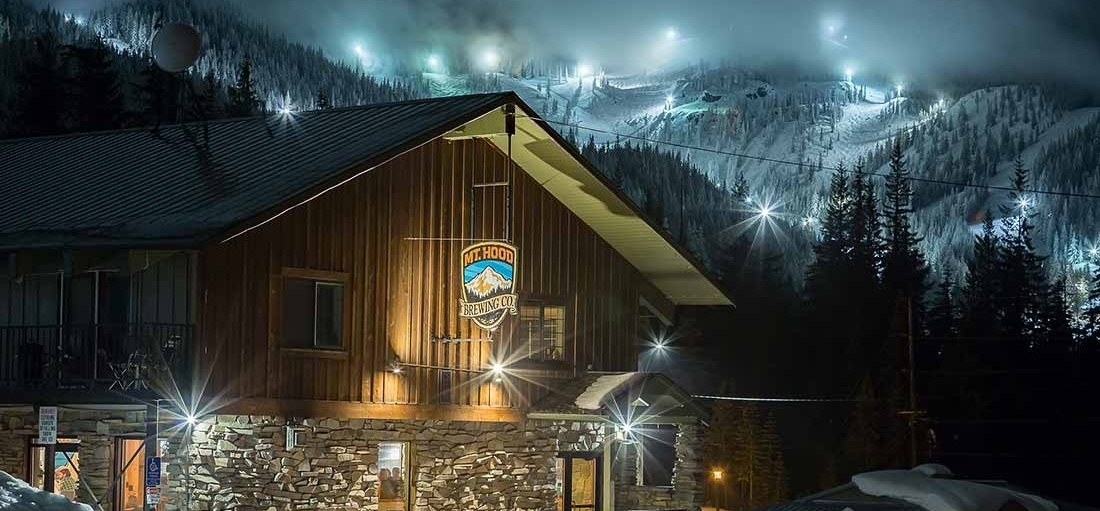 Located just six miles down mountain in Government Camp, Timberline's Mt. Hood Brewing Co. features microbrews made onsite and fresh, Oregon-inspired comfort food. Established in 1991, the brewery was founded upon the notion that beer is best produced in small, handcrafted batches utilizing the finest local ingredients and enjoyed locally. Thus, Mt. Hood Brewing Co's beers can only be enjoyed in the state of Oregon in order to ensure optimal freshness. The brewery's food menu is always fresh and locally-sourced and includes tasty starters, signature pizzas, and hearty entrees. Thousands of skiers—and Mt. Hood locals—have made the Mt. Hood Brewing Co. an institution on the south slope of Mt. Hood.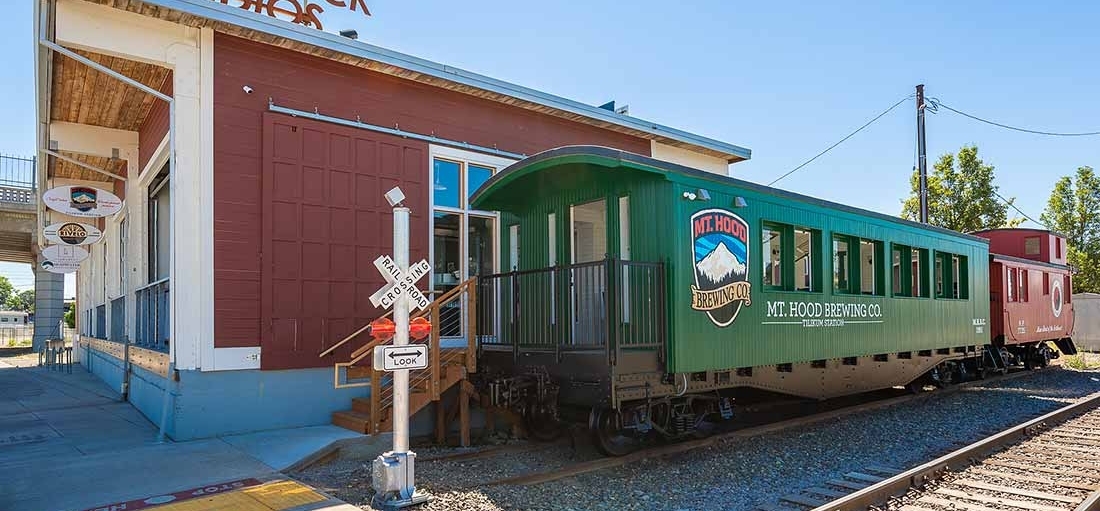 We brought Mt. Hood to Portland! Mt. Hood Brewing Co. Tilikum Station is NOW OPEN, located on the east end of Tilikum Crossing across from the Oregon Rail Heritage Center and near OMSI. This new Mt. Hood Brewing location features wood-fired pizzas alongside our classic Mt. Hood Brewing craft ales, including a new Tilikum exclusive, the Mt. Hood Lager. The restaurant with extra seating in an adjacent train car and caboose is air-conditioned and family-friendly. Mt. Hood Brewing Co. Tilikum Station is right on the orange line and also has plenty of parking for both cars and bikes. We look forward to seeing you in Portland!
OPEN DAILY with limited outdoor seating in the green train car, plus takeout & delivery
11:00am - 8:00pm
ORDER ONLINE or call 971-302-7296 to place takeout & delivery orders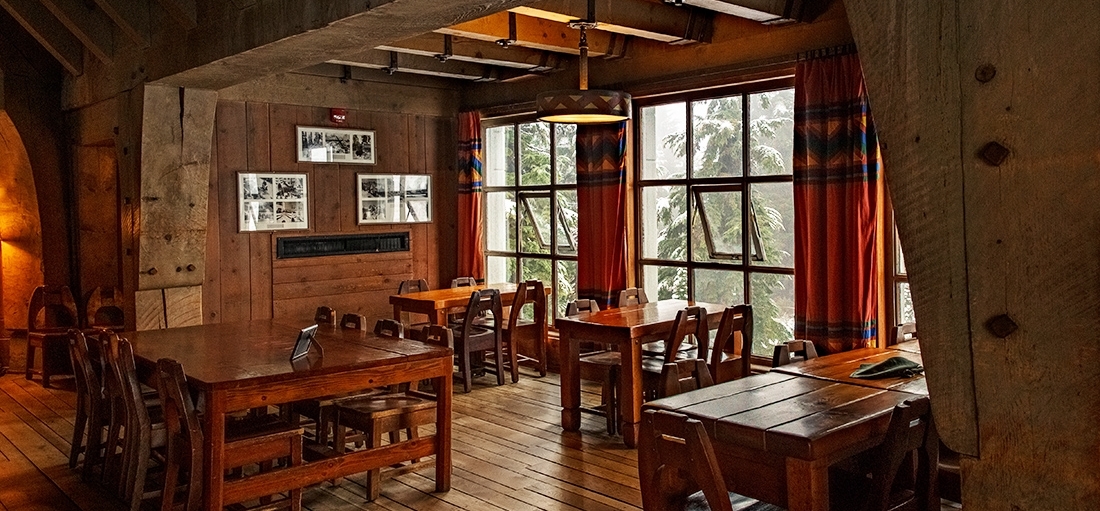 Perched on our second floor circular balcony—surrounding a massive stone chimney—the Ram's Head Bar is the perfect location for family-friendly casual drinks with stunning views of Mt. Hood and Mt. Jefferson. The extensive drinks menu features a historic and locally-inspired cocktails selection, a variety of hot drinks to warm up after playing in the snow, and Mt. Hood Brewing Co. microbrews.
CLOSED UNTIL FURTHER NOTICE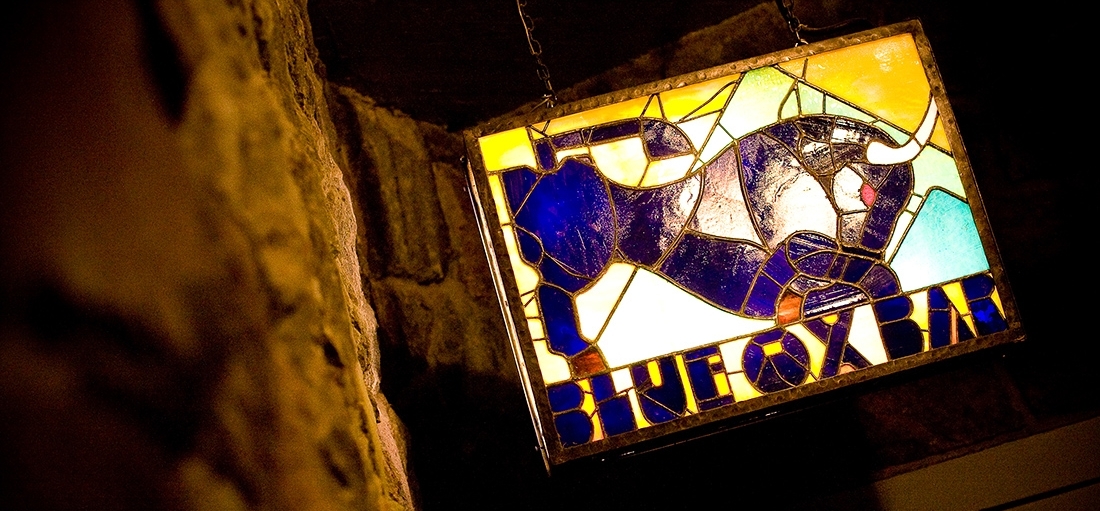 Once you find the Blue Ox Bar, you'll find it hard to leave. Cozily tucked away just behind the main lobby, it's a favorite hole-in-the-wall watering hole steeped in history. In 1937, when the lodge was nearly finished, someone noticed there was no bar. Improvising architects altered a wood storage area into the Blue Ox Bar. Restored glass mosaic murals illustrate the well-known Paul Bunyan—and his beloved blue ox, Babe—legend. The bar menu features hand-tossed pizza and other delectable snacks, Mt. Hood Brewing Co. microbrews, and seasonal cocktail offerings.
CLOSED UNTIL FURTHER NOTICE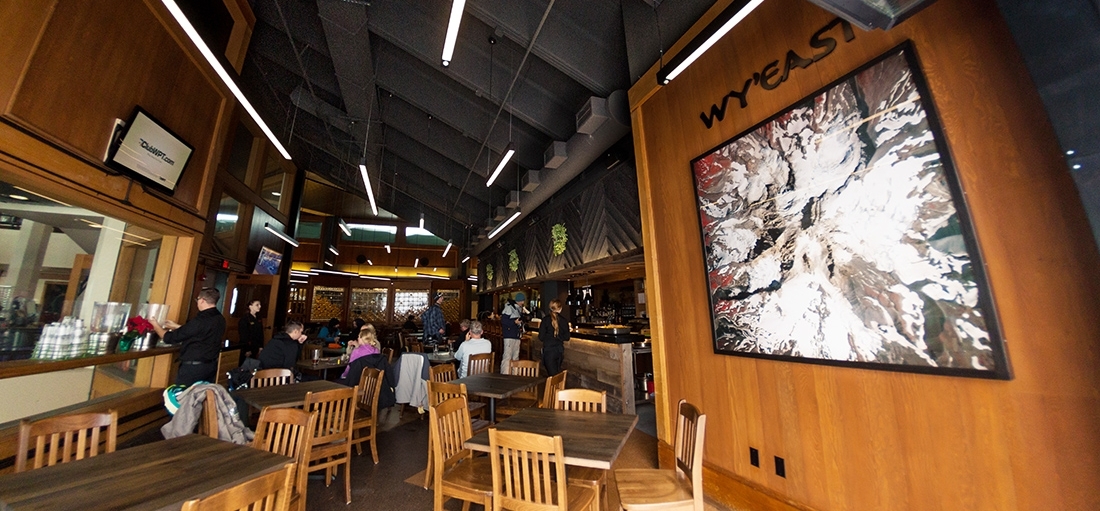 Located next to the Wy'East Café in the Wy'East Day Lodge—just across the parking lot from the historic Timberline Lodge. The Y'Bar is a family-friendly spot with a food menu geared towards skiers and snowboarders, mountain bikers, and visitors seeking a casual pub-like atmosphere. Large glass doors overlook the expansive outdoor sun deck, with sprawling views of Mt. Jefferson and the Cascade Mountain Range.
CLOSED UNTIL FURTHER NOTICE
It is a story similar to many chefs who discover their passion for food while just trying to earn a living. That's the great thing about working in kitchens…you can do it anywhere. The key is to get noticed while you're doing it. Timberline Executive Chef Jason Stoller Smith has spent most of his 30+ year culinary career showcasing the fresh food, beer, and wine that make this region so unique. Chef Stoller Smith has spent more than half of his career as an Executive Chef, first at a seafood restaurant in Olympia, WA, then as the Executive Sous Chef here at Timberline for four years. He spent 10 years as Chef/Partner at a well-known wine country restaurant in Dundee, OR, to gain more experience in food and wine pairing. Chef Stoller Smith returned Timberline Lodge as Executive Chef in 2010, after an amazing two days of cooking at an event hosted by President Obama. He has since elevated the lodge's various food programs. Jason oversees all the culinary efforts at Timberline's seven Mt. Hood restaurants, plus the full-service conference center and wedding venue.
The Timberline Lodge wine program is built around a single premise: offer the best of the Northwest. An increasingly world-renowned destination for innovative, quality cuisine and wine production, we feel it is our responsibility and honor to showcase various bounties available in the Pacific Northwest. Oregon, with its award-winning Pinot Noirs, is considered to be the Burgundy of North America, and Washington, with its incredible Cabernets and Merlots, could be called our Bordeaux. After you've sampled our wine list, we think you'll agree some of the world's best wines are being made here.

Nearly all the wines on our list are chosen at our weekly staff tastings. This helps refine our offering, as well as educate our servers about the wines. Our waitstaff is more than happy to make recommendations. In addition to the Pacific Northwest, we offer delicious wines from other regions as well. - David Villali, Timberline Lodge Wine Manager since 1994

We'd never forget your pint-sized adventure companions. From giant pretzels and hot cocoa in the Ram's Head bar to pizza, burgers, and healthy grab-and-go snacks in the Wy'East Café, there's something for every youngster as you move through the day. And don't forget: KIDS (age 11 & under) EAT FREE in the first hour of dinner service in the Cascade Dining room with purchase of adult entrée, where we have an extensive children's menu.