SKIING, SNOWBOARDING, AND TUBING

Timberline's Summit Pass (formerly known as Summit Ski Area) is officially part of the Timberline ski area as of 2021, increasing Timberline's vertical terrain to 4,540 feet, the longest in the United States. Located in Government Camp, Oregon, the Summit Pass Lodge and base area offer affordable access to its beginner ski and snowboard terrain, as well as lessons, rentals, a restaurant and snow tubing area.

While this long vertical from Timberline to Summit Pass is not yet lift-serviced, it is accessible via other transportation methods and available when there is enough snow at all elevations. In the winter, skiers and snowboarders with a Timberline lift ticket or season pass can take the Timberline Resort Shuttle from Summit Pass in Government Camp up to Timberline (Summit Pass lift tickets and passes are not valid for 4,540' vertical access). At Timberline, catch the Magic Mile Chair Lift up to the Palmer Snowcat access point to be taken to the top of Palmer. Enjoy the ride down to the Alpine Trail or West Leg Road, which ends at the bottom of Summit Pass.

The Summit Season Pass includes unlimited access at Summit Pass in Government Camp. In March, the Summit Pass upgrades to a Timberline Spring Pass, which is valid for unlimited skiing and riding throughout Timberline until May 27, 2024. Summit Passholders also receive 25% off daily lift tickets for themselves at Timberline.

Summit Pass lift tickets can be purchased upon arrival and are valid only at Timberline's beginner ski and snowboard area in Government Camp. These tickets may be upgraded at Guest Services for full access to all of Timberline's terrain.
Group discounts for 10 - 50 people at Summit can be arranged for Mondays - Fridays. Group bookings can be organized to include rentals ready upon arrival, meals, and lessons arranged so your group can hit the slopes immediately. Timberline Summit Pass can accommodate ski groups from 10 or more people. Review pricing options and get in touch with us by filling out the Ski Groups Information Form After submitting the form, the Group Sales Office will send you a link to log in and register your group. All participants need to submit their e-forms 72 hours prior to arrival. Lessons info is required 7 days in advance.
SEASON PASS
TERMS
PRICE
ALL AGES 7+
Summit Season Pass
$299
BUY NOW
CHILD Age 6 & under
Valid at Summit and Timberline
FREE
SUMMIT LIFT TICKETS
TIME
PRICE
ADULT ANYTIME Ages 18-64
Open to Close
$54
ADULT AFTERNOON Ages 18-64
12pm - 4pm
$44
JR/SR ANYTIME Ages 7-17 & 65+
Open to Close
$38
JR/SR AFTERNOON Ages 7-17 & 65+
12pm - 4pm
$34
CHILD ANYTIME Ages 6 and under
Open to Close
FREE
ALL AGES Tubing
Open to Close
$28

LESSONS At Summit Pass, the gentle slope and our experienced instructors make the learning process fun! Summit Pass Group Lessons will be available weekends and holidays only, December 16th – April 7th, snow permitting. Summit Pass lessons are 2-hour group lessons, ages 4 and up. $85 includes a Summit Pass lift ticket. Add $44 for age 13+ rentals, $34 for ages 7-12, or $20 for rentals up to ages 4-6. Helmets are $10 extra. BOOK ONLINE or call 503-272-3341 to request a lesson starting Oct. 1st.
RENTALS Summit Pass is proud to offer a wide variety of top-of-the-line skiing and snowboarding gear for rentals. Snow tubes are free with your tubing ticket. All rentals are available first-come-first-served.
| AGE | PRODUCT | PRICE |
| --- | --- | --- |
| ADULT Age 16+ | All day ski/snowboard package | $44 |
| ADULT Age 16+ | Half day (12pm-4pm) ski/snowboard package | $38 |
| ADULT Age 16+ | All day skis/snowboard only | $36 |
| ADULT Age 16+ | Half day (12pm-4pm) skis/snowboard only | $30 |
| ADULT Age 16+ | Anytime snowboard boots only | $22 |
| JUNIOR Age 5-15 | All day ski/snowboard package | $34 |
| JUNIOR Age 5-15 | Half day (12pm-4pm) ski/snowboard package | $28 |
| JUNIOR Age 5-15 | All day skis/snowboard only | $26 |
| JUNIOR Age 5-15 | Half day (12pm-4pm) skis/snowboard only | $20 |
| JUNIOR Age 5-15 | Anytime snowboard boots only | $20 |
| CHILD Age 4 and under | Anytime ski/snowboard package | $20 |
| All Ages | Anytime ski poles only | $9 |
| All Ages | Helmet | $10 |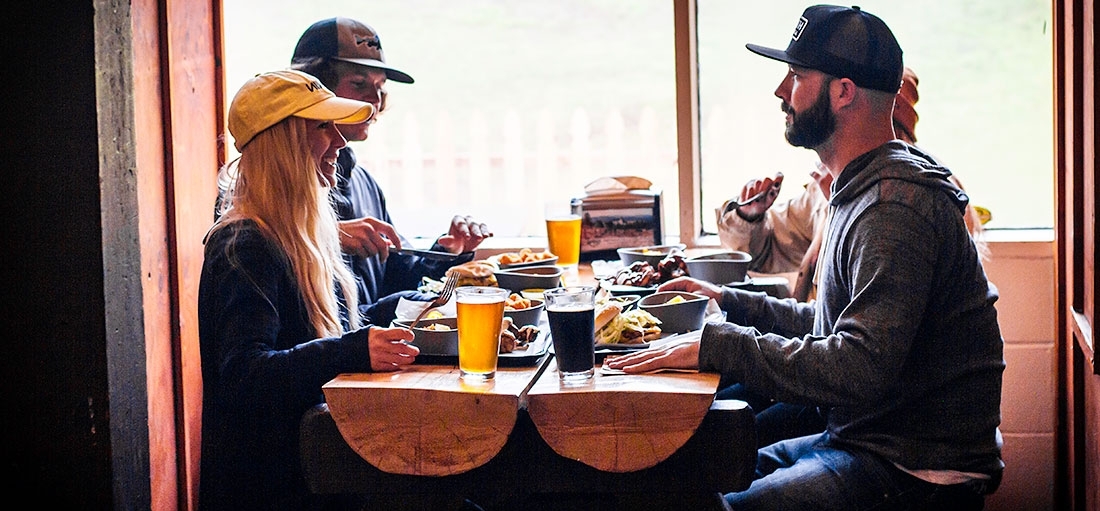 The Cafe at Summit Pass is open for summer dining, indoors and out on the back patio. Enjoy views of Mt. Hood while you eat. The Cafe features local craft ales from Mt. Hood Brewing Co., cocktails made with Oregon Spirits for the adults, ice cream and Italian sodas for the kiddos. For lunch, we have burgers, brisket, ribs, and more.

VIEW MENU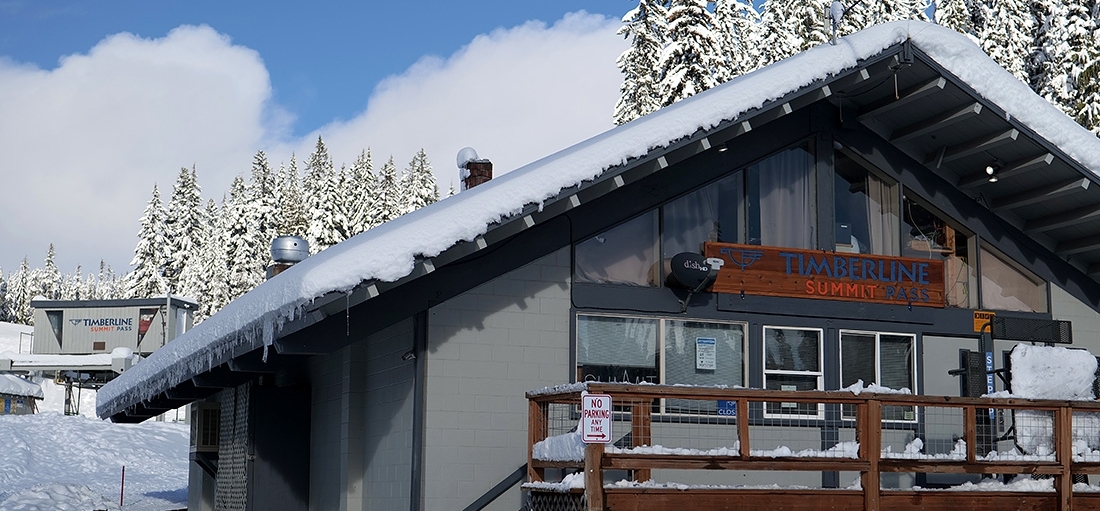 Summit Pass (formerly Summit Ski Area) is the second oldest continuously operating ski area in the United States and the oldest ski area in the Pacific Northwest. In 1959 a T-bar was installed and in 1966 the present lodge was constructed. In 1980 the current 2,300 feet long chairlift was built, providing access to approximately 3.5 miles of trails. Summit Pass base elevation is approximately 4,000 ft.

In June 2018, R.L.K. and Company, acquired 100% of the stock for what is formerly known as Summit Ski Area under a special use permit granted by the U.S. Forest Service (USFS). In October 2021, a special use permit was granted for the land between Summit Pass and Timberline in order to combine the two ski areas into one. This increases Timberline's vertical from 3,690' to 4,540', the longest vertical terrain in the United States.

The vision for Summit Pass is to continue to operate as a family-oriented, affordable, community-friendly ski area, while upgrading facilities to connect Government Camp with Timberline. Upgrades are also planned to create a year-round recreation hub for outdoor activities fostering experiences and education, with an interest in increasing engagement with youth and underserved communities so as to increase opportunities and diversity in the outdoors.

SUMMIT PASS MASTER PLAN